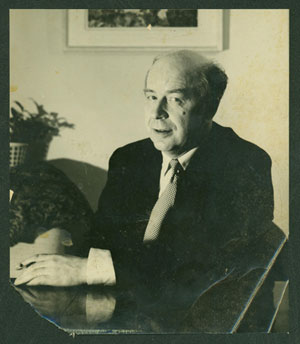 Rare photograph of David Wright, taken in 1961 or 1962 at the height of Carol Day's popularity. Photograph courtesy of Patrick Wright.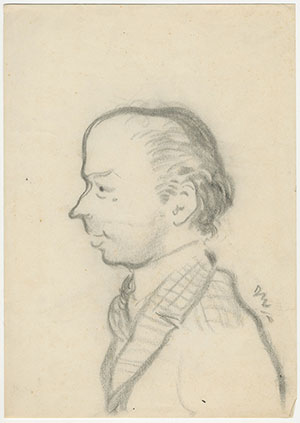 Self-portrait by David Wright.
About David Wright
David Wright (December 12, 1912 - May 25, 1967) was a British illustrator and comic strip artist. Wright came from an artistic family and started work at his uncle's studio after leaving school, later becoming a fashion illustrator.
In 1941 he got the assignment to draw a series of glamorous women for The Sketch, most of whom were modeled on his wife Esme. His series of pinups, popularly called "lovelies," epitomized female glamour during World War II and Wright was Britain's most popular and important pinup artist of the time.
In 1956 he created Carol Day, a strip about an aspiring fashion model and her life in London, for the Daily Mail.
After the war, Wright continued to produce pinup and advertising illustrations, as well as other comic strips, such as Judy, in addition to Carol Day. He died suddenly in 1967 of an undiagnosed brain aneurism. British illustrator Kenneth Inns took over Carol Day after Wright's death until the strip's demise a few years later.

The Daily Mail announces David Wright's death.