Press Release: Saturday, December 11, 2021
CAROL DAY — LANCE HALLAM PROJECT YEAR-END UPDATE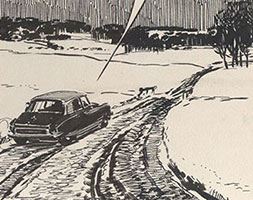 As we all head into the holiday season with friends and family, we thought we'd provide a year-end update on our activities:
Gathering Art
We've located and procured 72 of the 84 originals. The deal for the 72nd strip has only recently been completed!
Of the 12 originals we have not procured, we know where 7 of them are, and we are still looking for the final 5: 137, 142, 145, 155 and 165 (email Chris Killackey at ckillack@gmail.com if you have any leads!)
We have 81 (of 84) print-quality scans, leaving only three needed to publish the entire Lance Hallam story in an artist edition-quality format: 137, 140, and 165.
We have commissioned 15 pieces of Carol Day-themed art by contemporary artists, 9 of which are complete and viewable in the "Carol Day by Today's Artists" section of the website (https://www.carol-day.com/todays-artists.cfm).
The Lance Hallam Artist's Edition
As we mentioned in June, we are planning to publish an artist's edition of the Lance Hallam storyline. We are pleased to report that we are well on the way! In fact, along with seeking advice from people with deeper publishing experience, we have put together a team that is hard at work putting together what we think will be more of a high-end art book than a standard artist's edition. With original art in hand as well as the additional print-quality scans, we will be able to present a beautifully consistent set of scans that mimic viewing the individual boards as if you were sitting in front of them.
But it's not just about the art! We've also been developing articles for the edition that we think will enhance one's appreciation of Carol Day (broadly) and Lance Hallam (specifically).
Finally, commissioning contemporary interpretations of Carol Day by comic artists (the commissions mentioned above) has been one of the most exciting and pleasing parts of the project. After something of a slow start, this piece of the project has come together very nicely, and the participating artists have contributed top-notch work and a huge variety of ideas that will add a special dimension to the book. If you haven't looked at this section on the website in a while (https://www.carol-day.com/todays-artists.cfm), we encourage you to take a look, as we now have 9 commissions posted and more to come.
Overall, we're on track to go to print sometime in the first quarter of 2022. And we're thrilled to be on a glide pattern to landing what we think will be a unique and special publication that readers will immensely enjoy.